Blog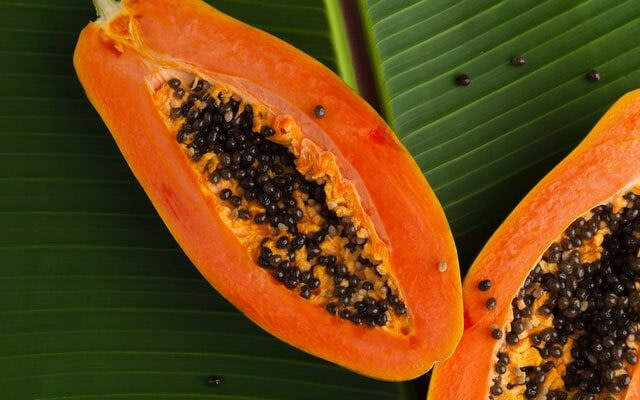 Benefits and side effects of eating Papaya
Benefits and side effects of eating Papaya
Fruit of all season. It consists of about 179 KJ of energy, 10.82 g of carbohydrates, 0.26 g of fat, 0.47 g of protein, vitamins (vitamin A, vitamin C, vitamin E, vitamin K, folate, niacin, etc.), minerals (calcium, iron, magnesium, phosphorus, potassium, sodium, zinc, etc.).
88% of water, 11% of carbohydrates and negligible fat and protein is present in raw papaya pulp.
Papaya fruit provides 43 kilocalories and is a good source of vitamin C but is low when it comes to nutrients.
Some amazing benefits of papaya are as follows: –
1.Traditional Medicines
Papaya leaves are used in the treatment of malaria, an abortifacient, a purgative, or smoked to relieve asthma.
2. Bone health
Deficiency of vitamin K leads to high risk of bone fracture. Papaya consists of vitamin K which absorbs calcium which strengthen the bones and reduced the risk of bone fracture. A small papaya can fulfill the need of vitamin K.
3. Cancer
Beta-carotene found in papaya can reduce the risk of cancer. Diet rich in beta-carotene may protect our body against cancer.
4. Digestion
Papain an enzyme can aid digestion. Papaya consists of this enzyme so it is very helpful when it comes to digestion. Papaya is rich in water content and fiber which prevents constipation.
5. Skin health
Proteolytic enzyme and papain are beneficial in promoting wound healing and prevents infection of burned areas. Papaya consists of both of them so is very useful in healing and it also nourishes the skin.
6. Hair health
Vitamin A is very effective in case of hair. It keeps hair moisturized. Papaya rich in vitamin A is very effective in this case.
SIDE EFFECTS
People having latex allergy are also allergic to papaya as it contains chitanases an enzyme.
Papain an enzyme in papaya acts as an allergen in sensitive one.
Papaya latex can cause irritation in some people skin.
Esophagus that is our food tube can get damage by taking large amount of papaya by mouth.